WHITE ELEPHANT RUN
5.0 MILE RACE
Saturday, January 4th, 2014
Official Website: http://whiteelephantrun.yolasite.com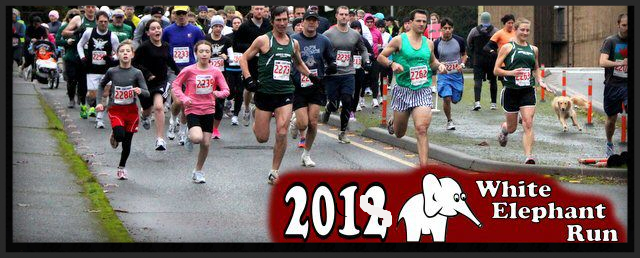 2011 RESULTS 2011 PICTURES. FACEBOOK PICTURES.
2012 RESULTS 2012 PICTURES. VIDEO. FACEBOOK PICTURES.
Date & Time: Saturday, January 5th, 2013. Start time is 9:00 AM. Day of race registration 8:10 – 8:40 AM @ Olympia South Sound Running store

Day of Race Registration and number pick-up: South Sound Running Store in Olympia -- 3409 Capitol Blvd., Olympia, WA 98501
Race Description: At registration you will be given a detailed course map with mile markers. Course will start on Boston St. SE near Olympia South Sound Running store and then turns right onto Deschutes Parkway, down through Tumwater historical park, under the freeway along the trail, right on Deschutes Parkway again, around Capitol Lake and stay on 4th avenue, right on Water Street, right on Columbia, through the State Capitol campus to Water Street again until it rounds the corner and turns into 21st, right on Columbia again, around the corner and over a small triangular grass median to take a right on Capitol Way and finish in front of South Sound Running. After the start of the race it will mostly be an open course not blocked off to traffic, so stay on the sidewalks when possible.
Awards: Each person who would like to be eligible for awards should bring a wrapped present with a value of about $5. If you cross the finish line first, you get 1st pick of the presents. After the completion of the race all finishers will open their gifts together at a warm, dry, and festive environment inside South Sound Running. There will be several more valuable gifts interspersed randomly. There will be some manner of special awards for the first three overall male and female finishers and masters winners.
Parking/bathrooms: There is ample parking on Custer Way SW by the dysfunctional brewery or at Tumwater Falls Park. There are no bathrooms at the start of the race, but close by in Tumwater Falls Park are the restrooms of choice. These restrooms are about a quarter mile away from the start, and you really will want to go down to the park anyway because it is beautiful.

Time schedule:

8:10 - 8:50 AM -- Pre-registered number, shirt pick-up, and wrapped present drop-off @ South Sound Running (3409 Capitol Blvd.)
8:10 - 8:40 AM -- Day of Race registration @ Olympia South Sound Running
8:50 AM -- Begin lining up for start in parking lot on Custer Way SW just east of Boston Street starting line (west of SSR)

8:58 AM -- Move to starting line on Boston Street SE

9:00 AM -- Start of 5.0 mile race
9:45 AM -- Overall awards @ SSR, post race snacks, presents, and hot chocolate
print off registration form and mail to:
White Elephant Run
5129 Chambers Creek Loop SE
Olympia, WA 98501
$5 pre-registered, $10 day of race + wrapped present (worth about $5 – see "awards" above)
Optional Charcoal gray hooded sweatshirt: add $30
Optional Black technical long-sleeved t-shirt: add $25

Optional black technical t-shirt : add $20 (no logo on sleeve)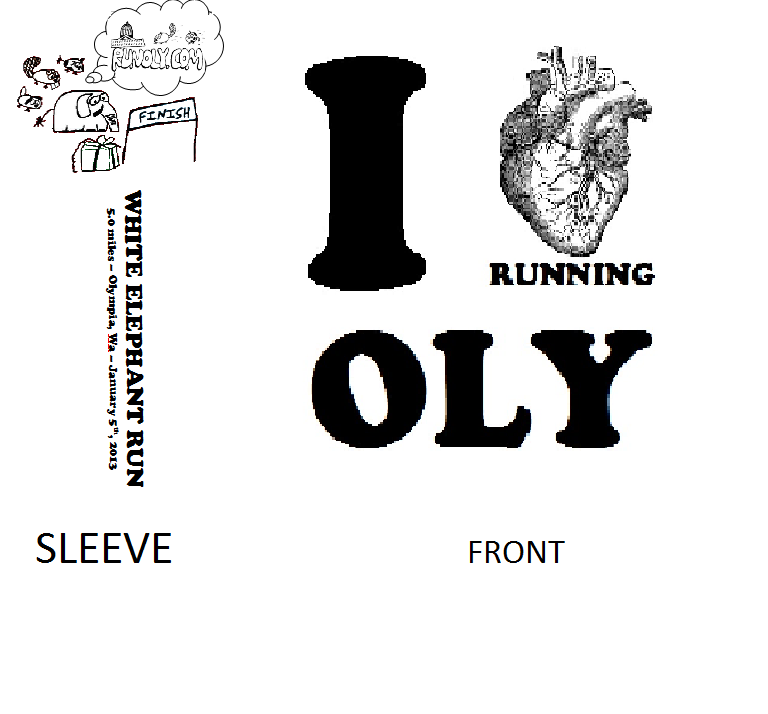 Make checks payable to Jesse Stevick
Any proceeds will go to support youth running/track & field in the Olympia area
2013 White Elephant Run Entry Form

Pre-registered : $5 Late or Day of Race (if ordering a sweatshirt make sure it is in by December 27th, 2012) : $10
Male / Female
Name: ________________________________
Age: ________
Phone: _______________________________
Address: ______________________________
______________________________________
email: _________________________________
Waiver Release: I hereby certify the following: (1) I am medically able and properly trained to participate in the White Elephant Run; (2) I further agree in the event of an injury or accident that event officials may authorize necessary treatment for me and I further authorize the American Medical Response (AMR), Olympia and Tumwater Fire Dept. (OFD) or any other medical treatment provider to furnish to the event organizers my name, telephone number, and if applicable, the name of any hospital or medical facility I was transported to as a result of any injury or medical problem that arose out of this event; (3) I further grant the White Elephant Run specific permission to reproduce, publish, circulate, copyright, or otherwise use an and all photographs and/or videotape of me and/or my family, taken at the event; and (4) I voluntarily agree to assume the full risk of any and all injuries that I (or my child) may sustain as a result of my participation in the White Elephant Run. I assume all risks and hazards incidental to participation in the Whilte Elephant Run. Having read this waiver and knowing these facts, and in consideration of the acceptance of my entry into this event, I hereby for myself, my heirs, executors, administrators or anyone else who might claim on my behalf, covenant not to sue, and waive, release and hold harmless all subsidiaries, affiliates, assigns,representatives and successors of the foregoing: The City of Olympia, its officers, officials and employees, The City of Tumwater, its officers, officials and employees, and all event sponsors, suppliers, agents, independent contractors, employees and any other personnel in any way assisting or connected with the White Elephant Run from any and all claims of liability of any kind whatsoever. Entries cannot be accepted without a valid signature. Entries from minors will only be accepted with a parent or legal guardian's signature.
Signature _______________________________ Date _______
Black Technical T-shirt: $20 (no logo on sleeve)
Charcoal gray hooded sweatshirt: $30
Optional Black technical long-sleeved t-shirt: add $25
Quantity: ________
Size(s) S M L XL
If ordering several items write down sizes and quantities next to items. Make sure registration is received by December 27th, 2012 if you are ordering sweatshirt. Call (360) 455-5282 to reserve a shirt for race day if you think your entry might not arrive by the 27th.

Mail entry form to:
White Elephant Run
5129 Chambers Creek Loop SE
Olympia, WA 98501
Or register at the Olympia South Sound Running Store December 17th – January 5th